With a little passion, two hives and a few thousand bees, the story of 1839 begins.
First introduced to New Zealand in 1839 the honeybees quickly discovered New Zealand's vast manuka mountains, where the flowers were so unique the course of honey would change forever. With the health-giving benefits of manuka honey now being legendary.
1839 continues New Zealand's rich beekeeping tradition, delivering natural flavours unique to our landscape. Sourced straight from our hives, we create premium hive products to be enjoyed with loved ones as you celebrate life.
1839 requires no translation - the rest, as they say, is history.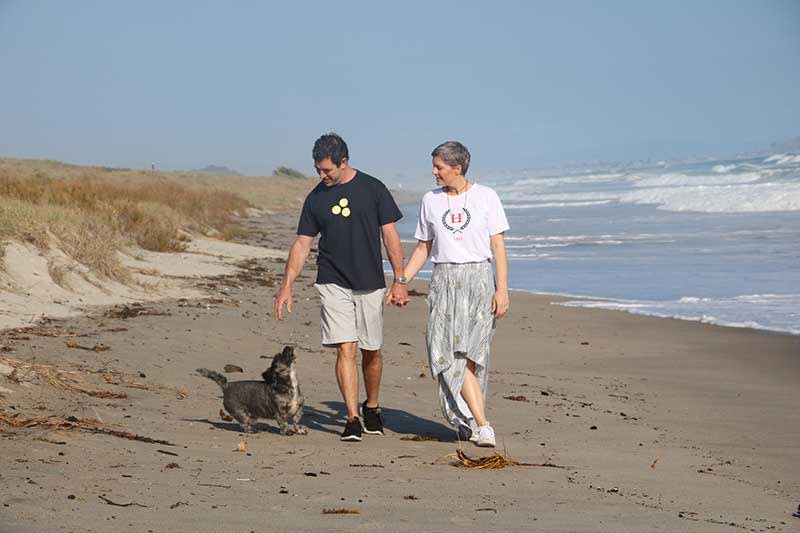 hannah and rob
In the Summer of 1999, 160 years after honeybees were introduced to New Zealand, Hannah and Rob first met, this is where their story begins.
Hannah, born and raised in New Zealand, and Rob, born in Zambia, but now a Kiwi for over 20 years, are the proud owners and operators of 1839.
Rob's corporate FMCG background in sales and general management together with Hannah's experience and training in hospitality and marketing, makes this team perfectly equipped to take 1839 to the world.
2016 saw Hannah and Rob make the move from Auckland to Tauranga, located in New Zealand's picturesque Bay of Plenty. This was not only to upgrade the 1839 honey factory – but also to 'upgrade' their family's lifestyle too. Hannah & Rob feel extremely lucky to be living this dream lifestyle; they have plans to continue to stay in this clean, green paradise, exploring the remote regions of New Zealand and working closely with the free-range bee keepers to unlock more secrets of honey and share them with you.
Live life and enjoy nature!
FACT:Bees make only 1/2 a teaspoon of honey in their lifetime